A local son wishes the store and its "blatant disregard for authenticity" well!
The new FLAGSHIP store in Burlington, Vermont (one of… I lost track how many total) boasts, "WELCOME to Bur-ling-ton" in large tween-like window lettering just steps from Church Street and directly across from City Hall Park.
Just turned 1!
Its mere existence is an ode to BTV tourists who don't know or care that the home office and factory flagship store is just a few miles further south, or even exists. It is a glorified tourist trap for pedaling vacation souvenirs. *soft-goods
A "shop" local market share that had all but eluded them since their founding in 1977 and Uncle Jake grew to be worth 100 million. 40 years forward >>> with a blatant disregard for authenticity; a consistent brand philosophy or providing a product with any integrity. Wild style, blind-on-the-knuckle, definitely not looking up hill — they are gaping their way in and out of the trend pool, each time reaching a little further from the shroud of being from Vermont.
Welcome to Burlington, suckers.
"Versatile as the weather is Variable" appears in the opposite window in the same bullshit typeface. It is the new "Riding is the Reason" #hashtag and more aptly articulates what is most important, the clothing you wear and memories you purchase. i.e. the products "we" mass produce in China at the lowest cost by VOLUME to sell at the highest cost RETAIL, each piece sealed individually in single-use plastic, before being folded like an Abercrombie t-shirt welcoming you to the Green Mountain State.
Alas, my point: the Green Mountain State. A beacon of free-thinking, locally minded, sustainably driven and thoughtful folk. The semi fashion forward, trendsetting birthplace of farm-to-table and all things organic and green. Indigenously home to the first nation Abenaki people whose flag depicts Vermont through story and symbolism, lending itself to the oral tradition central to their community and culture.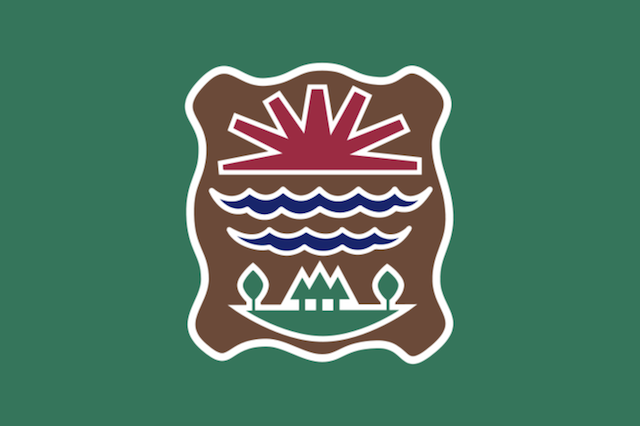 A group of people whose ancestors thrived on the same intervale flood plain (as Burlington's present day farmers' market in City Hall Park) thousands of years prior with a food hub that extended outward in barter and trade throughout the region. Insert: mind blown. Me too; Burlington is the mess-0-fuckin-potamia of the east coast. i.e. the fertile crescent creation story "we" all learned to be our own.
Heavy history lesson aside, what the F is really the point? This particular group of people wasn't recognized until May 3rd, 2006. It took Burton CORP. less than a decade to "borrow" their flag (change it to black and white) and brand it their own established 1977.
*slim to moderate correction: it took them less than a decade to pay LA based @magedesign to go ahead and "borrow" it for them. Not sure what is worst, oh wait — paying someone else top dollar for how fake you are is actually much worse.
No Brainer.
Welcome to Burlington.